Testing PowerPoint-Scheduler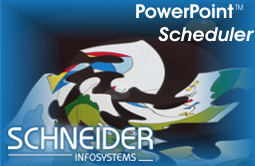 Whichever product edition you choose, we recommend starting with our Trial License, which allows you to test the system extensively in your application. The trial license works with full functionality limited to 30 days. You can order a trial license for USD 15.- . This amount will be credited by ordering the first license. You can download the trial license easily from this website.
Do you need a written documentation of PowerPoint-Scheduler? Download the PowerPoint-Scheduler-Flyers (1'921 KB)
Do you wish to automate your presentations with PowerPoint-Scheduler and do you have still questions?